Welcome
Enniskillen Nursery School is a government funded, fully integrated school established in 1999.
We are situated on the main Dublin Road coming into Enniskillen town and have an excellent purpose built facility that offers DENI funded places to children from all faiths, communities and backgrounds in their pre school year.
Indoors there are three large classrooms, each having a wide selection of small world, creative and construction toys that allow children to develop six fundamental areas of learning: Personal, Social and Emotional, Early Literacy and Numeracy, The Arts, The World Around Us and Physical Development.
These areas of learning are complimented by a fantastic secured outdoor play area with a vehicle circuit, a role play cottage, art house, sensory area, a purpose built sandhouse and exciting water play feature as well as a vast amount of multi purpose physical development equipment.
We celebrate all achievements and successes and recognise that every child is unique and on their own special learning journey. Our aim is that all children will experience a wide range of challenging, learning opportunities in a happy, secure environment that enhances their self-esteem and confidence and lays the foundations for lifelong learning.

Staff are completely committed to providing the highest quality of pre-school education for all children in our care in a safe and caring atmosphere where children feel valued and accepted. Where they can grow in confidence, develop their sense of worth, independence and curiosity.
A snapshot of nursery school life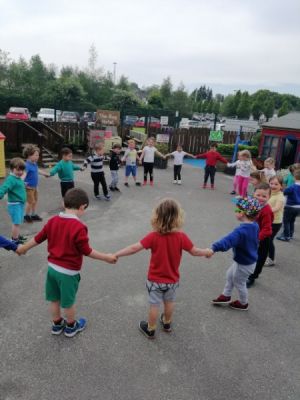 Upcoming Events...
Wednesday, 6th December 2023
FT class christmas Play (10 am)
PM class Christmas play (1.30)
Thursday, 7th December 2023
AM class Christmas play (10am)
Friday, 8th December 2023
Chrsitmas jumper day
Thursday, 14th December 2023
Big bedtime Read: story night (6pm)
Enniskillen Nursery School, 29 Dublin Road, Enniskillen, Co. Fermanagh, BT74 6HN
028 6634 2694